Well, well, well back around to....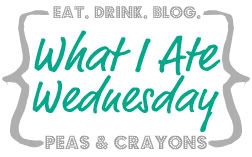 Hard to believe it is that time again from last week...here's a peek:
Mmmmm....Via Pumpkin Flavour! So yummy and easy to make! Basically a hair under a cup of milk mixed with the packet! I use almond milk so it's a nice 100 calorie snack!
Halloween came early in my latte at breakfast Saturday morning.
Went to Dunn's Smoked Meats for our New Restaurant Friday. Got a grilled cheese, I took off most of the meat lol
Breakfast Tuesday morning. Two hard boiled eggs, crackers with jelly, berries, and milk
I have been forgetting to take pictures of my food this week. I have been keeping on track and keeping it pretty healthy. Will be doing more cooking in the coming week so will have a lot more to post ;)
Just finished up week one of the Focus T25 Beta Cycle!
This is what my week looked like:
Wednesday: Core cardio, awesome. Probably my favourite video.
Thursday: Speed 2.0
I believe this is from Speed 2.0. In this video there are different rounds that have two levels. Then at the end your work your way continuously through all the exercises. I am going to do a full on write up of it like I did for Alpha.
Friday: Rip't circuit. Finally got some weights in, thought my arms would fall off! ;)
Saturday: Rest day, was tired and didn't want to do anything! I did manage to stretch though! :D
Sunday: Dynamic core. Standing core and horizontal core...tough stuff.
Monday: Doubles; upper focus and core cardio.
Made for a great workout! Loved these two together!
Tuesday: Rest day. Did some walking.
Coming up for this week:
I want to get back on a Monday through Friday workout schedule so for week two of Beta I will be doing doubles Wednesday, Thursday, and of course Friday. I then will take Saturday and Sunday as "rest" days. Then pick up the following Monday with Week 3. I say "rest" because on Saturday the teen & I are running...
We are so excited and can't WAIT! Should be a blast. I will also stretch Saturday. Sunday, if I wake up on time I will go to Yoga at Lulu lemon, but we'll see...I'm not putting any real pressure on making that happen!
So, what are your goals for the upcoming week? Anything special?