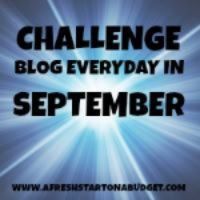 Hello! Happy Sunday! Lots of posts have gone up lately, make sure you go over to the homepage and check them out if you are joining me from a direct link!
Today's prompt is my favourite outdoor activity. This is a tough one because I love a lot of outdoor things: swimming, going to the beach, walking, running, hiking, going to the park and playing with my kiddo, and al fresco dining. My favourite, if I have to pick just one would be going to the beach. I will tell you why, it's because going to the beach can incorporate several, if not all of the other outdoor activities I love!
Usually I have to walk to get to the beach
Sometimes, depending on the beach it could be a hike to get there (lol)
I usually take a picnic lunch with me because I rarely stay for just a short amount of time
I can swim in the water (well, I don't really here in Canada lol)
When I go with a friend or my family we can toss the frisbee, fly a kite, or build a sand castle
Take a walk and collect shells
So, there you have it, my favourite outdoor activity that includes all of my other favourite outdoor activities!
How many times can you use the phrase "favourite outdoor activity" in one sentence?! Seriously, what is your fave activity for the outdoors, anything new and fun I should get into?