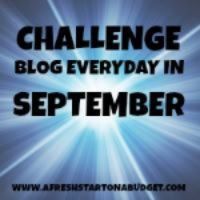 Today's challenge question asks what the three greatest moments of my life are...not in chronological order....
1. The day my daughter was born....
I'm going old school for this one because I had her before digital camera's became big, so these are pictures I took from her scrapbook....
The introduction page I made for her book, look at my OB Holding her, wasn't he hilarious?!
The husband and I probably just an hour after she was born. Look how young we were!!! I forget how young we looked...so anyone who thinks I still look like I'm 19 I have proof I don't!!! LOL
2. The day I got married to my fantastic husband....
(Again, taking pictures from our scrapbook because digi cams weren't so big at the time...)
Our Ceremony
At our reception...weren't we cute! We were so young!!! I can't get over that!
Awww *kissy*kissy*! BTW, I just now, after 14 years of looking at this picture noticed those hands in the bottom right corner! hahaha
3. The day I graduated University.
I don't actually have any photos of this because I did not walk. In 2005 we moved from Orlando to Kansas so my husband could attend law school and I completed the last year of my degree programme online. I worked really hard. I started University in 1998, took a break in 1999 went back in 2000, took at least one class every semester in 2002 I started full time, worked, raised a kid, and still managed to go out with my husband. I kept a B average the whole time. I didn't do so terrible. ;) Those were the longest years of my life and I joke around telling everyone I'm so tired all the time in my 30's because I rarely slept in my 20's! :P
Wow, this was fun reliving those moments...but I need to plan a vow renewal so I can get some wedding-ish pictures of us digital!