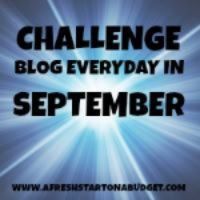 This topic is a seriously tough one. I have a lot of people who have influenced me. I have my
mom
, my
dad,
and my
husband
. These three people have really supported me and helped me in any and all my endevours. My mother and father since I was a small child, and my husband in my adulthood. But, I have to say the one person who has really driven me to set a good example, be the best I can be is this lil' lady:
She is such a cutie, isn't she?! I wanted to set a good example for her as a child so I made sure to put myself through college, find a profession I would enjoy, and now to do the best I can to set a great example of taking care of our home so she knows what to do a long time from now when she is out on her own!
Kind of surprising that I chose my child as the most influential person on my life, huh? What about you, who is the person who has most influenced your life?