So, I know I am posting this sort of late (although, it is only 10pm here), but I did want to share my meal prep. I don't prep every single thing, but I do prep a lot of it so it's grab and go and it makes it easy for me to healthier without having to think. If I have to look for something many times I'll go for an unhealthier version of something! :-/
So, here is what I did:
I had my daughter help me prep breakfast food:
On the left is pre-measured milk & cereal so all she has to do is pour the cereal to the milk & eat it right from the mason jar. Then, the right side is premixed carnation instant breakfast that she eats with either an apple or a banana.
These are fruit parfaits. On the left is a 1/4 cup greek yogurt on the bottom with a bit of frozen mixed berries, then a 1/2 cup greek yogurt with more frozen mixed berries on top. The one on the right is a 1/4 cup greek yogurt on bottom with 5 frozen peaches, then a 1/2 cup greek yogurt & a handful of frozen strawberries on top. I prefer the frozen ones when making parfaits so as they melt the sauce makes the yogurt sweet. The granola is some I had made a while ago & needed to use up. It's just random amounts of quinoa, wheat germ, chia seeds, a few oats, and some coconut with a tsp of vanilla poured over it & a few drops of stevia baked at 350 until toasted.


Next I prepped some snacks for after my workouts. One set is some greek yogurt and peanut butter with apple slices, the other is one sweet potato cut in half and mixed together with some unflavored hemp protein powder.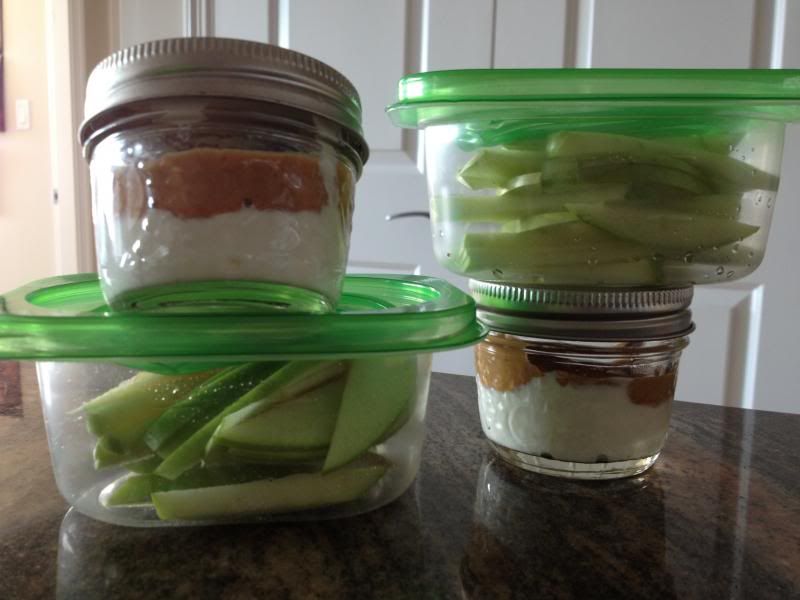 Next, I saved the second sweet potato I made for later in the week with lunch, then I pre-cooked a few potatoes for lunches & my twice baked potatoes on Friday or Saturday (without my menu in front of me I forget which day hehe).
Finally I made myself some fun drinks for this week! I've been getting kind of tired of my regular, plain old water & I've been having some digestive issues so I made some waters that will help with that and will give me something tasty to drink!!
This, I'm not sure where the recipe came from as my mom gave it to me, but you are supposed to drink the whole 66oz pitcher each day. It really helps with digestion!! I love this drink. It's 66 ounces of water, one small cucumber, 1 tsp of fresh grated ginger, and one lemon sliced. Put it in the water & let soak over night! It's delicious and refreshing!!
Last are these two. The left is 8 oz of water with a mint green tea bag, half a sliced lemon, and a small handful of frozen strawberries. On the right is what I love to call my sunshine water because of all the pretty yellow in it! It's just 8 oz of water, half a sliced lemon, and a few frozen peach slices! Put them in the fridge & let soak over night!!
For my dinners I chopped the scallions & precooked my bacon. Tomorrow while I do some cleaning I will make my soups so they have time to simmer on the burner. I already precooked my potatoes for the twice baked's so those won't take as long that night. Otherwise my meals this week were pretty easy and there wasn't too much "work" to be done.
What do you do to get ready for the week???