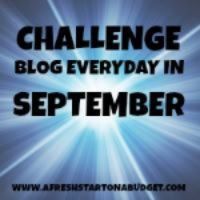 This was hard for me! I have a lot I want to say about my life!!! But, this is about the gist of my life in a nutshell. It wound up being 292 words in total. I can't wait to read everyone else's!!!
Mi Familia
I was born and raised in 1980 in
Jacksonville, FL
to two amazing parents and a great brother who was 8 years older than me. When I was 4 my parents had a home built and we moved in there, which is where I met my best friend of 28 years. I went through life like any other child, we played outside until the street lights came on, sometimes later as we would get the flashlights out and play
flashlight tag
. I grew up and changed into a teenager. I met my first real boyfriend in 9
th
grade and went to prom, and then in 10
th
grade I went to a rival high schools prom where I actually met a guy that would be my future husband. My next year of high school, my 11
th
grad year, I worked my butt off and graduated early after doing some dual enrollment at the local college. That is where I met (again) that guy from 10
th
grade prom. We moved quickly and were married within 6 months of dating. That December we welcomed a beautiful baby girl into our family and he joined the military which took us on a crazy journey around the country. We lived in Lompoc, CA, Denver, Co, Satellite Beach, FL, and Orlando, FL. After we both graduated from University we moved to Topeka, KS where I began teaching and found a career field I love. After the hubs finished law school we moved back "home" to FL but it wasn't really where our hearts were so hubby changed career fields and we've since moved to Austin, TX, Santa Monica, CA, and now Vancouver, BC. I am currently a keeper of my home and starting a blog and Etsy Business.