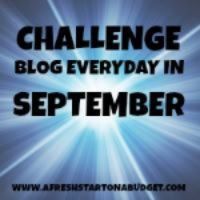 So, today I am supposed to tell you what my favorite post is that I've done so far. Hmmmmmm....
I think, if I have to choose I can just narrow it down to two:
I think I loved this one so much because when I wrote it I emailed it to Pear and they actually responded! I wrote it because I love the product and really believed in it and wanted to let people know, I also wanted them to know how much I loved their product. It made me feel good that they liked my review and were happy that I loved their product as well.
I think I love this one so much because it is one of my most pinned posts! People seemed to read it a lot and refer to it. I also feel like I had something to tell the world that a lot of people don't really have on their blogs, so I guess I feel like it's one of my few more "original" pieces, even if it was inspired by a challenge on another blog ;) hehehe
Go check those ones out though, they have lots of good info in them! ;) If you blog in the comments leave me a link to one of your favorite blog posts you've written so I can go and check it out! :)