Ok, I don't know what it is about some of these questions, but they give me heart palpitations. Almost like sitting in an interview and you get the inevitable 5 year plan question. I never know how to answer this one, especially in a stupid interview....how do you politely say well I'm sure I'll move in the next year, but I still see myself here! LOL Thank goodness I sort of gave up on getting a regular job these last couple of moves, I was tired of convincing myself we were finally "settled in a place"! ha! But, anyway, on to the real question.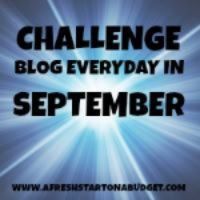 In five years I have to be honest I have no idea where I see myself. I am sure we will be living in yet another new place. Our daughter will be turning 18 at that point and about to head off to University. I hope that in the next five years we can get to Europe and be living there, letting our daughter finish off her education over there, learning a new language, and getting to experience history in the most glorious way-hands on!
Do you have a five year plan? Do you find having these sorts of plans help or hinder you? If you aren't a planner do you have the same fear of this sort of question like I do?!