Well, it's back ladies (& gents??? I know my Mr. reads, so we'll include them too ;)), What I Ate Wednesday.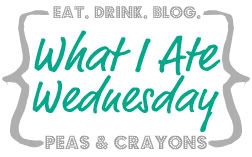 I actually find this day very encouraging because it lets me know I'm not the only one out there who loves food so much! When I look at some fitness discussion boards online it seems like so many people don't truly enjoy their food. They eat it because it is a necessary evil for living, but today is the day I can rejoice in loving food!!! So...with that intro I must admit we did NOT eat very well this past weekend! BUT, that is ok because it was well balanced with eating well earlier in the week and lots of exercise! So, without further ado....
Ribs with cinnamon pears & coconut oil & corn. The ribs are rubbed with a savory rub & slow cooked & topped with a delicious bbq sauce! The links to the recipes are here.
Delicious baby greens! My 13 year old eats these by the handful. There is baby arugula in there that has a weird spicey-ness that regular arugula doesn't have. Amazing.
First, I am so not perfect see that chipped polish??? OH yeah, it's still chipped lol I am trying a DIY shellac today, we'll see how that goes. ..anyway, the brow bar I go to serves Chai to you during your appointment, I never turn it down, it's always amazing.
My mother's day cupcake. It was a black & white cupcake with cream cheese frosting in the middle, the top was coated with ganache, and then topped with the same cream cheese frosting that was in the middle & topped with chocolate sprinkles!
Ok, I was almost done when I remembered to take a picture. I actually couldn't eat anymore once I got to this point. It was an amazing mac & cheese with a salad (salad was just ok..I don't actually like restaurant salads), and there was an adult beverage but it was hot out & the beverage was cold so it was gone quick ;)
This wasn't the popcorn we had at the movies but it represents the popcorn...and this popcorn was way better than the crappy popcorn at the movies lol
I went to get a massage last Wednesday and so I treated myself to a coffee & a scone! The scone I only at half, the other half served as lunch ;)



Now, onto the workouts....




(Img Credit)
So, since last Wednesday this is what my workouts looked like:
Wednesday: None. My whole day was off & I was tired & not feeling well. I had been out early to run errands, then I grabbed the most amazing sub (that I forgot to take pictures of) and stupidly ate the whole thing along with an entire kombucha. Yeah...I tried working out about 90 min after that & indigestion kicked in so I took a hot bath instead. Lesson learned. But, I did go out with hubby to an amazing comedy show that I'll do a review of later & had a blast!
Thursday: Had a therapeutic massage to help my hip issues. I haven't had a single issue since. She told me to take it easy on my hip so I was going to just do Cardio Recovery, however, I was feeling so amazing I decided to pop in Max Recovery & had a fantastic workout! I prepped myself for only doing what I could & I did have a small issue on the part where they do the hip stretch & you have to keep your knee to elbow, but I just put my hand to the floor for the whole exercise & it was perfect! Then I took a night hot bath with Epsom salts & some lavender essential oil. It was fantastic! A day of pampering!
Friday: Max Cardio & Cardio Abs. Killer workout, over a thousand calories, can't beat it!
Saturday: Max Interval Plyo. This workout is the hardest workout for me. I don't know what it is about all the plyo, but when we have to do wide squat jumps as the last exercise in one of the circuits it about kills me....ok, that's being dramatic, but it's really, über challenging!
Sunday: None, I didn't make up for missing Wednesday like I thought I would. We were celebrating Mother's Day, I slept in until 9 am! I just didn't get it in. It happens. But, we did do some walking as a family & I will give up a workout any day for family time. :)
Monday: This was a holiday for us! However, I didn't slack! I was up & did my fit test! I'll post my results for that soon. Then I took a break as that is a 350 calorie burner for me every time so I wanted to make sure I was fueled for the second workout so I took an hour break after a protein packed breakfast then did Max Interval Circuit. It was a tough workout but I had the 13 year old & the husband cheering me on!! It was fab!
Tuesday: Max Interval Plyo again. I did it in my bedroom this time so I could watch myself & my form in front of the mirrors. I did the squat jumps way better this time as I realized I wasn't pulling my knees up as high as I should be & I realized that during the wide ab jump things when I'd go back in plank I was dipping my hips, could have been contributing to my low back pain. It's good to watch yourself every now & again (I personally wish I had a room where I could watch myself all the time, but I guess I'm narcissistic like that, but I think I look hot when I workout lol ;))
Today: On the schedule is Max Cardio Conditioning & Cardio abs. The way I have it planned to do is fasting cardio abs. So I'll do them as soon as I wake up & have my water. Then, after I have a little breakfast & get hubs out the door I'll do Max Cardio. This one is the one I love to hate...as it has no breaks!!
So, that's my week in a nutshell. It wasn't 100% the best week, but those things happen. I still made some progress on my fit test. Some were better than others, but my muscles are sore & are taking a long time to recover, so sometimes you don't see progress but it's happening. Have to have faith! ;)
Leave me a comment & tell me what your favourite meal was this week!!!