Ok, so I am getting slightly better at the blog posting thing. I'm hoping next week to get in every day! But, we'll see how that goes.
Today, I love linking up to the Pea's & Crayon's "What I Wednesday" linkey party because I love getting to see what sort of delicious goodies everyone is cooking up.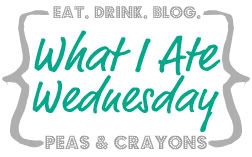 I love drooling over stuff I'll never make because it isn't healthy & I love bookmarking new healthy recipes!! So, without further ado here is what I've been eating the last week or so:
Fries prepped & ready for some homemade healthier poutine!
This was from lunch with my honey last Friday! It was black bean tacos with black beans, rice & tomato's. It was slim picking on their veggie menu! But, it was delicious!
This was dessert a few days ago. Greek yogurt with cocoa, stevia, granola, strawberries & bananas! So delicious. It took me a while to hop on the Greek yogurt bandwagon, but I'm here & a willing participant!!
Delicious green banana smoothie! I'll post a recipe for this soon!
Greened up homemade hamburger helper! Found the recipe for homemade helper here. It tastes just like the real thing only fresher! I greened mine up by adding spinach & zucchini. The kidlet followed suit & even though she hates spinach she choked it down.
"Green" strawberry smoothie. I greened this up by adding the tops of the strawberries into it. There is also some raw oatmeal in there. Gave it an amazing thickness!
This was a fruit dip & fruit plate the kitlet had after school. I'll post the recipe soon for the dip, it was tasty! She inhaled it all!
My amazing protein breakfast with fresh brewed lemon & ginger tea!
On to the workouts!
So, last week for me was my Insanity rest week. So that meant a whole lot of core cardio & balance. I LOVE this DVD! By the end of the 40 minutes I feel like I worked, but not too hard. Also, at the end of the week my core is always much stronger! So Wednesday I did core cardio & balance, Thursday I did P90X, X-Stretch, Friday I did Core Cardio & Balance, Saturday I did core cardio & balance & X-Stretch, then Sunday I took a nap! Ha! Monday, started Month 2 of Insanity. This has been a rough week! I did my fit test as well as Max Plyo Cardio Circuit. I stupidly did the circuit first then did the fit test. BUT, my results were still AMAZING! I improved so much since my first fit test (yes, I missed a fit test somewhere in there lol). Next was Max Interval Training, and today was Max Cardio. So, during month one you get shocked that the DVD is only 36 minutes & then a second shock when it's 20 solid minutes of nothing but cardio. Month two totally trumps that with a 47 minute DVD & 30 solid hardcore minutes of nothing but cardio!!! It's hard but oh-so-worth it!!! Today I also competed in a walking lunges challenge on a fitness board I belong to. The highest number I could get to was 50, but my legs were quivering majorly & I was ok with not getting as much as others as I have been working out so hard!! Each day for me has also entailed a 20 minute each way hilly walk to the beach & a 30 minute post dinner walk with the kidlet. So, we've been moving & grooving over here! Tomorrow is a recovery day so I'm excited, but the Max Recovery is not easy I'm always sore so I may have to make some more poutine to bribe my husband to give me a massage ;)
What workouts have you been doing lately? Do you feel like you're doing the best you can to be healthy????