So, as I get more and more blogging done I feel like I am getting the hang of this stuff! I even learned how to create a collage for my post today! I'm super, super proud of it! I'm beaming!
Anywho, let's move on to What I ate Wednesday! Like I said last week I love connecting up to this link party because it's so fun to see what deliciouness everyone is eating!!! So....here goes....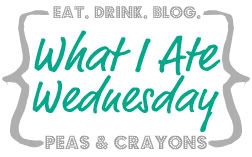 The shrimp & steak Surf & Turf dinner we just cooked on Saturday night. It was quite a treat for us! The steak was cooked perfectly, as well as the shrimp! We enjoyed it as a family and watched Extremely Loud & Incredibly close! #tearjerker!
A few weeks back we went to a video game themed restaurant here & had some amazing popcorn! I kept wanting to recreate it so I did! It was quite easy and is now a favorite snack of ours!
Last is just one of my lunches and a breakfast this past week & a dinner I left for my hubby last Wednesday on my carpool day...it was just Pillsbury crescent rolls with ham & cheese in the center and a pear. The crescents are so easy and quite filling!
I've also had quite the week with workouts. I'm in week two of Insanity, month two! My back is incredibly sore, my abs are sore, my derriere is sore, my calves are sore, my hamstrings are sore. So, basically everything on me is sore! Every single workout is exhausting! But, it is so worth it! I was down 1.6 lbs, and all my measurements that should have gone down were down at least a quarter to half an inch!
So, here's a breakdown of my workouts from the last week:
Last Wednesday: Max Cardio...this is a warm up and stretch then half an hour of non-stop cardio! I have quite a high calorie burn, although less so than I would actually expect from non-stop cardio.
Thursday: Max Recovery. This is the day I live for during my weekly workouts! This is not an easy workout by any stretch of the imagination as I still burn a solid 500 calories during it, but it's all deep muscle work and I love it!!!
Friday: Max Interval Circuit. This one gives me a super high calorie burn in the hour long session. It's totally HIIT based and gives the perfect amount of work vs. rest.
Saturday: Max Interval Plyo. My phone wasn't charged so I couldn't use my heart rate monitor, but I will say Saturday's are probably my most favorite workout because hubby and the kiddo are home to talk to me. The kiddo likes to try and hop around me and try not to get hit as I bounce around lol It's really quite hysterical and frightening at the same time. But, it passes quickly because I have them to talk to & cheer me on!
Sunday:
Active rest day. Normally I just do a walk and the P90X X-Stretch DVD. However, it was mother's day and I was really wanting to get out. So, being the dutiful daughter my 13 year old got up and we went to Lulu Lemon for their free Sunday Community Yoga Class. It was a fantastic day. You can read about it
here
.
Monday: Max Cardio. I didn't have quite as high a calorie burn as last Wednesday, but my body was totally exhausted after the yoga class and we didn't eat so well Sunday and I just felt horribly sick to my stomach. Oh well, at least I did it! ;)
Tuesday: Max Interval Circuit. Again super high calorie burn and I was sweating like crazy! I couldn't even believe it! I also did really good on some moves that last week I couldn't make it all the way through! My mantra for today was if your tired do 10 more then rest...of course 10 more became 5 more, then ten more so I was really pushing myself as hard as possible!
Plan for today: Max Interval Plyo. I hate this one because you do those wide knee oblique jumps (I forget what they call them in the video but they are like tuck jumps but with wide knees). I actually love the jumps themselves, but they work me so, so hard that I'm exhausted at the end!!! :-/ But, it's well worth it. Today I am also going to do a second workout in the afternoon because Tony Horton is going to be doing a live stream workout on UStream...which I love him and have never been able to go to a live event where he or ShaunT are doing a live workout so this is my chance I feel!!! Maybe I'll get the courage to try beachbody coaching again someday so I can get cool invites to live workouts...maybe...we'll see lol
So, this my week in review. What sort of food/workouts have you being eating/doing this week??