Hey, hey, hey!
Who remembers that?! Fat Albert was my favorite as a kid! I also thought it quite appropriate since he eats a lollipop during that song and I am basically bringing you a treat edition of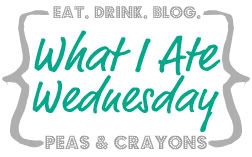 This past week was not a great week for me nutrition wise, but I am still posting because guess what...I am human and those weeks happen. I don't punish myself for it because that is counterproductive. I won't be gaining anything from it and I can't change it. Instead, I shall embrace it!
Nutella pizza...this was amazing. To read more about this dish click here.
Great end of dinner treat...Americano!
Hot cocoa with lots of marshmallows on a snowy winter's day...we barely moved from the bed that day.
This is an award winning Kiwi Martini. Made with a delicious kiwi puree...Had a be careful though because it was just so good!
I suppose it wasn't all bad...these were our breakfast on Tuesday. Fruit parfaits (& a little X3).
As you can see I am still on track with X3. I just entered the second transition week. I love this week because it is all total body work. Nothing super high cardio, just deep down muscle work, then lots of stretching. I think these weeks are where I see the most improvement in my body.
So, here's what I've looked like this last week:
Wednesday: X3 Yoga (my fave!)
Post workout Saturday. This was an accomplishment because it was the workout I almost didn't do. I was so busy Saturday morning I didn't workout first thing. Usually if it doesn't get done early, I don't do it. But, it was snowing and there was nothing to distract me so I focused and pressed play!
Sunday: Rest day...and rest we did! It was snowing all day, the teenagers cheer was cancelled so we literally laid in bed, watched TV (Guy's grocery games is my new favorite show), and napped.
Held crow for 10 seconds, but was able to hold
the position almost the whole time!
Some sort of dancer something. This stretches the hips
nicely!
Breathing hard through left banana. My core is
becoming so strong!
Me pre-workout, I was doing a bit of photography,
so decided to snap a pic of myself...don't let that smile
fool you, my feet were really numb!!! Our balcony
was super icy.
Tell me, what did you do for yourself this week?