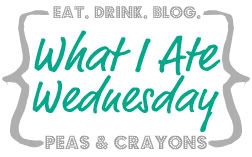 Hi! Welcome back to What I Ate Wednesday! Last Wednesday I was incredibly ill. I became super ill on Christmas and it lasted a week! I woke up this morning with a really sore throat and swollen glands but put some coconut oil in my coffee and did a shot of lemon, ginger, cayenne and we will see where that gets me. My glands are no longer swollen but if I'm still not good when I wake up the doctor it will have to be I suppose. Who else doesn't like wasting the time to see the doc?
Anyway, here is what I've eaten over the last week. Don't miss my New Restaurant Friday recap on Monday's post over
here
.
These snap pea crisps & hummus are amazing! Love them!
Homemade hamburger helper with whole wheat pasta, zucchini, and avocado. ...and a little corn, I couldn't resist! ;)
This is what hubby is having this week...eggs for breakfast, shakeology for snack, and peanuts and raisins for his other snack.
Paleo pancake with a little maple syrup...I was out of Peanut Butter & Banana! hahaha and come coffee ;)
Spaghetti squash with ricotta...yum!
Whole wheat spaghetti with zucchini...so delish!
On Monday I am starting the 21 Day Sugar Detox. If anyone is interested in joining me come on over to
Facebook
and send me a message or post on my page's wall...I am really excited to do it and would love to make a support group!
Now for my workouts this past week! I finished T25 back the week before Christmas...so I took some time off to enjoy with the husband and kiddo and enjoy the weather. I was busy walking with the kiddo and then being sick. I was so sick I couldn't move without extreme dizzyness and vomiting. It was awful! I ran a fever...and I never run a fever. So I know I was sick. But, I am finally feeling better...I think and was able to start P90X3 this week with my amazing husband. Here are some photos from each day & my video reviews so far!
This is my Bring it face!
This was during Agility X on Tuesday. Super fun, but super challenging workout. I was never an athlete so I didn't understand how to do some of the drills so I looked like a total tool trying to run in figure eight's and tripping over my own two feet. Here is my video review:
Today was yoga. Probably my favorite so far even if I couldn't go full out because of my ridiculously sore chest muscles that I have no idea how I hurt them on Sunday. This one is great because there are so many different variations you can do! It's amazing. I can't wait until I am strong enough to do some of the more challenging exercises. Here is my review of the yoga:
Remember if any one is interested in joining me for a 21 day sugar detox I'd be so happy to set up a group, or if you are trying to reach some
goals
and want an accountability buddy I'd be happy to team up with some and work on those either through a FB group or email, just let me know through the contact form on the right side bar or by messaging me on
Facebook
!