I really have to get a better title for my What I Ate Wednesday posts...these are hard though because well, they are what they are! But, I had a *spam* commenter say the titles were "boring" and if a spammer thinks its boring...in my mind there is no doubt it is...so I need to get my creative brain flowing.....so this week I added "Glorious Summer" to the title since we kicked off summer vacation this past week finally....but, I still need to figure out what else to title these...for now though, I will continue to call a spade a spade ;)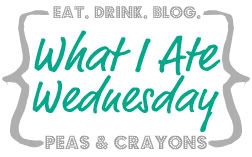 I feel like I wasn't a very good journal-er for this week my food photos are really sort of random! ha!
Breakfast one morning: Oatmeal with almond milk, coconut oil, blueberries, chia seeds, blueberries, banana slices, cinnamon, and a tiny bit of vanilla sugar (I made, recipe coming soon it is amazing)
This was a quinoa scramble minus the eggs. We've been using up food because I am too lazy to transport it from one house to the other lol So this has a little bit of everything in it: peppers, onions, mushrooms, quinoa patties I made and had frozen topped with a bit of cheese. It was perfect after a nice 40 minute run & some insanity cardio recovery.
I confess: this is canned pineapple lol It was still delicious & I used the pineapple juice it was packed in to make a delicious drink with pineapple juice, pear juice, and some lemon...it was very yellow. :P
This is probably my most favorite salad ever! I will be posting the recipe soon...but it is so delish!
Hubby worked late one night and the kiddo and I didn't have to be creative so veggie nuggets and sweet potato pieces and onions it was. Easy, fast, and we had leftovers ;)
Finally...we had a great little treat day this past week on Friday. School let out Thursday so we partied hearty on Friday with a day at the beach & some delicious treats!
For me: Mojito...so tasty! For teenager: Coke
We split this tasty little concoction....nachos with salsa and guac and some chicken satay. Satay was a bit much for me I only had one skewer...the teenager devoured them though!
Finally...some ice cream! No better way to kick off summer than some awesome ice cream and a walk on a bright sunny day along the canals of Amsterdam!
It was a great week and I really stuck to eating clean and healthy a majority of the time! This is good for me because I have been caught in a "cheating rut" for a while now...(btw, a "cheating rut" is where every meal is a cheat meal lol)
Now for my week in workouts! This has been a fantastic week for me. My legs are super sore, but I am more energized and feeling accomplished after my workouts even on days when I wasn't particularly looking forward to the workouts...
Last Wednesday: Ran 30 minutes and stretched...I did my C25K...it truly was an awful run. I was still lethargic after our Paris trip but, I got out there and did it and had a great time!
Thursday: Insanity Cardio Power & Resistance
Friday: we were at the beach all day and our train coming home was late! We at dinner and I ALMOST didn't work out....but, I started getting mad at myself for not working out so I got up & did it! This is the end result of Insanity Pure Cardio!
Sweaty & gross but feeling amazing!
Saturday: P90X Stretch and date night since it was raining all day I wasn't up for a run in the freezing rain ;)
Sunday: Got up at 7am and went for a run before everyone got up...did a 40 minute run then came home and did Insanity Cardio Recovery.
Monday: 20 minute run with the teenager that included two sets of 20 second sprints, then some Insanity Cardio Abs...my abs still ache ;)
Tuesday: Insanity Plyometric Cardio Circuit
Starting today I may have to change my schedule around since it looks like it is supposed to be really rainy the rest of this week and I am not a fan of running in the rain in this colder European climate....but, hopefully it will be nice enough for me to get up and do my 40 minute scheduled run with my cardio recovery...but we will see...may wind up being pure cardio ;)
How about you...if you run do you run in the rain? If you don't run what is your favorite thing to do for exercise?