Happy Wednesday, folks! What I ate Wednesday is finally back! I sort of got out of my blogging groove there for a bit, but I'm back in full force!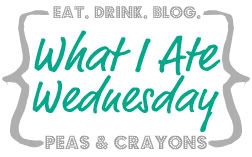 I will admit, I actually fell out of the habit of photographing some of what I was eating, so since I forgot last Wednesday to take pictures I figured I would feature what I ate this past weekend. It's a doozy of a weekend since it was my birthday! ;)
Friday, for my birthday the hubs and I went out and did a little shopping, we needed some nourishment so I got a beet smoothie from Jugo Juice. I love Jugo juice, it's basically Jamba Juice, but they have juice with beets! Yum!
This was a post workout lunch one day last week. It was a one egg omlette with 2 or 3 egg whites. It's filled with spinach, zucchini, onion, and a little ham. I had some toast with it.
These next two beauties are from my birthday celebration. We went out with friends for my birthday, one of my friends actually has the same birthdate as me so it was fun to go celebrate together!
These two above are from a place called the Bellagio here in Vancouver. It was ok. The lobster in it was amazing! I prefer a creamier mac & cheese though, but all-in-all not a bad treat on my birthday!
Last is yesterday's lunch. It was from whole foods...some mac & cheese (super creamy and absolutely perfect) and a stuffed piece of tofurkey. It was really, really good!
My workouts here lately have consisted of
Focus T25
. I joined a fitness challenge group that an amazing woman who runs
this
awesome page on Facebook (go like it!) started and this time around I am really seeing results! I think because I am in a group and am reporting my daily workout and how I did, plus I feel like I have workout buddies so it makes me more motivated to get going and workout hard! So, here is my schedule for the last week...I actually never took a rest day!
Wednesday: Total Body Circuit & Ab Intervals
Thursday: Cardio
Friday: Total Body Circuit & Lower Focus
Saturday: Speed 1.0
Sunday: Yoga at Lulu Lemon
***Start T25 Beta***
Monday: Core Cardio
Tuesday: Speed 2.0
Today: Rip'T Circuit
I am seeing some serious results this time around for T25, can't wait to see my results from Beta, especially since I am really trying hard to focus on nutrition this time around and not eat too much bad stuff (yeah, I'm laughing since this last weekend for my birthday I totally went all out & treated myself!).
What is your favorite workout you've done this past week?